Geometry Dash Fear Me
Geometry Dash Fear Me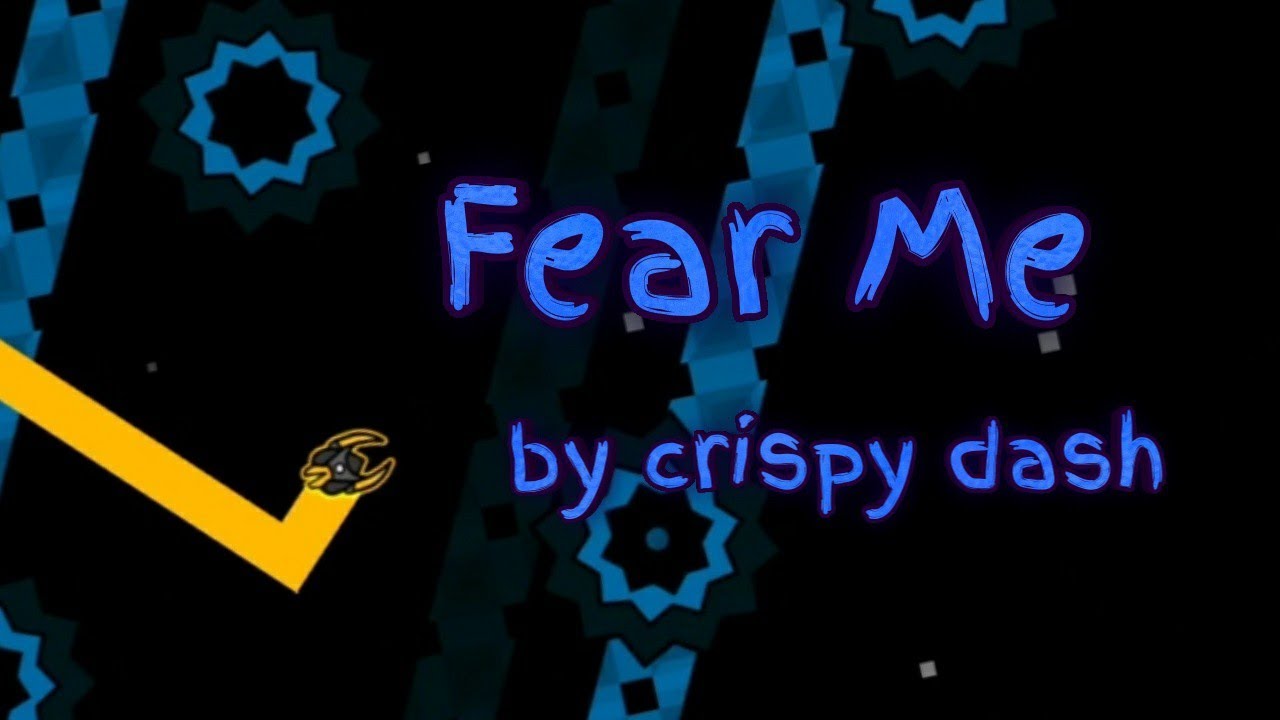 Geometry Dash Fear Me
3
3.33
5
Geometry Dash Fear Me is a Medium Demon level rated 10 stars developed by CrisPy Dash. It is a recreation of Nine Circles with a sky-blue motif. Furthermore, it is often regarded as an Easy Demon and one of the simplest Nine Circles levels. Despite this, the level demands substantially more work to reach the wave section than other simple Nine Circles Levels such as Infinite Circles and Ultra Paracosm. This level helped CrisPy Dash gain notoriety, and he went on to develop more rated levels.
Gameplay
The level begins with a very straightforward cube segment with various fakes, tricks, and orbs. The player next enters a more difficult double speed ship section, complete with traditional slopes, a plethora of saw-blades, tight areas, and gravity changes.
Following that, the player enters a Fairydust-style perplexing regular speed cube portion filled with bogus blocks, tough orbs, and spikes. Following that, it begins a visible auto-cube with unseen spikes and phony lines that may be avoided by leaping before a blue pad, dropping below, and being cautious to strike a blue orb to return above. A brief but challenging mini ball part precedes the drop, which begins with the standard triple speed wave of Nine Circles levels.
The beginning is quite challenging, with spikes, false lines, a few saw-blades, and size/gravity portals, before transitioning into an easier dual wave and passing through many gravity- and size changes, before the player must continue down a route identical to the initial single wave, but longer. The wave returns to dual towards the finish before entering the last cube part, clearly influenced by Problematic, with U-like blocks and the CrisPy Dash final mark.
Trivia
One of the most recent Nine Circles Levels.
Rulas and Phoenix cooperated on an Ultra version dubbed Ultra Fear Me, which does not begin like a conventional Nine Circles level. This level, however, is unrated, most likely owing to Giron's complaint against Ultra levels being ranked.
This is one of the three Nine Circles levels available to CrisPy Dash. Another example is If Sonic Wave was L1, which is Insane 8* and is claimed to be the most difficult Lv1 ever. He also made Screamroom Circles, a reworking of Retro Circles. However, it was eventually removed owing to concerns over not obtaining any stars.
Fear Me Rebirth is a remake produced by Bluefox that is based on Sonic Wave Rebirth and Fear Me.