Geometry Dash Bloodlust
Geometry Dash Bloodlust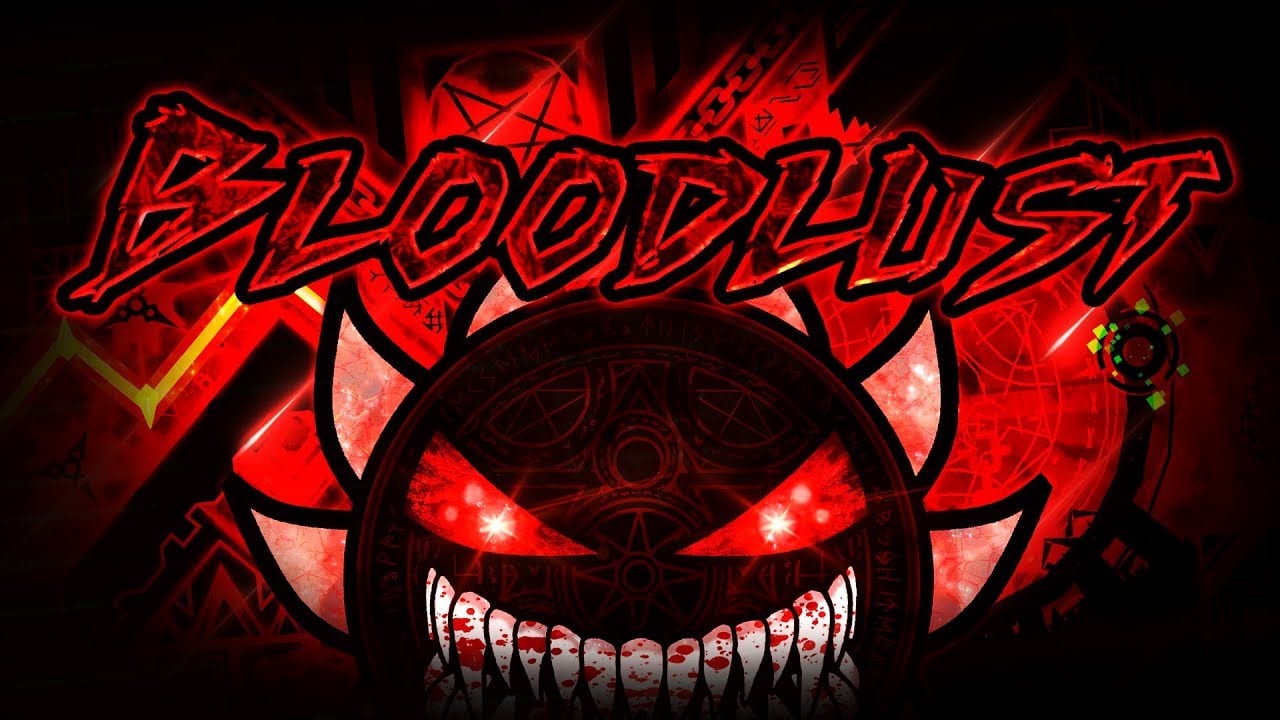 Geometry Dash Bloodlust
90
4.58
5
Embark on an epic journey of hellish challenges in Geometry Dash Bloodlust. Created by the brilliant minds of Knobbelboy, GDQuasar, Manix648, Pan/PanMan, Namtar, Wabbit, Terron, and TMNGaming, this game is an extraordinary Extreme Demon Level that will push your skills to the limit. With a staggering 10-star rating, Bloodlust is a testament to the dedication and creativity of its creators. Prepare yourself for an adrenaline-pumping experience as you dive into the dark and treacherous world of Geometry Dash Bloodlust.
History
Bloodlust stands as a monumental mega-collaboration, combining the talents of some of Geometry Dash's most esteemed creators. Spearheaded by Manix648 and verified and published by knobbelboy, this masterpiece is a buffed and extended remake of the renowned level, Bloodbath. Prepare to be captivated by its meticulously crafted effects and designs, which bring forth realistic hell-like visuals that will both astound and challenge you.
The journey of Bloodlust began shortly after the commencement of Sonic Wave Infinity by Riot. Inspired by Riot's 2.0 remake of Sonic Wave, Manix648 embarked on the ambitious quest to recreate Bloodbath within the realm of Geometry Dash 2.0. On March 28, 2016, the first official preview of Bloodlust was unveiled, showcasing the intense and captivating gameplay inspired by its predecessor, Bloodbath.
A mere week later, on April 6, 2016, Manix648 unleashed a second preview, offering a deeper glimpse into the gameplay mechanics. Within this preview, a particularly grueling swing-copter section, reminiscent of Hinds' part in Yatagarasu, was revealed, leaving players in awe of its immense difficulty. In a testament to the level's intricacy, Manix mentioned that Bloodlust had already amassed an astonishing 69,000 objects, solidifying its place as one of the most object-heavy levels in Geometry Dash history.
Nearly a month later, on May 6, 2016, Quasar unveiled his second preview, shedding further light on the breathtaking gameplay that awaited players. In this preview, Quasar noted that Bloodlust was already nearing the level of challenge posed by Yatagarasu, a testament to the level's unyielding nature.
Interesting Facts
Bloodlust quickly rose to prominence, reigning as the longest-standing #1 Demon on the Demonlist. This remarkable achievement solidified its position as the second former #1 Demon to retain its status for over a year, following in the footsteps of Bloodbath. However, the title of the longest-reigning #1 Demon now belongs to Tartarus, which held its position for an astounding 418 consecutive days and a total of 527 days.
Within the Korean community, Bloodlust has earned the moniker "Curse of the Red Moon," emphasizing the intensity and relentless challenge it presents. The ongoing discussion comparing Bloodlust to Yatagarasu has gripped the community since the level's announcement, with the majority now recognizing Bloodlust as significantly more challenging.
Bloodlust's impact extends beyond its own realm, serving as an inspiration for the creation of Kenos, another level that follows the same concept of a buffed and extended remake, this time taking inspiration from Sakupen Hell. The first wave of Bloodlust even draws from the gameplay of Sakupen Hell, further showcasing the level's diverse influences.
Drawing inspiration from levels like Blood Sacrifice, Death Moon, Reanimation, and other hell-themed creations, Bloodlust stands as a testament to the genre's enduring popularity and allure. Notably, alongside Digital Descent, it is one of the only former Top 1 levels to receive an Epic rating, underscoring its monumental impact and significance within the Geometry Dash community.
Upon its release, Bloodlust was met with immediate acclaim, swiftly receiving the Demon rating and earning a spot in the prestigious Hall of Fame within a mere hour. Its difficulty was swiftly recognized, and it was elevated to the status of an Extreme Demon in less than three hours. Only recently surpassed by Cold Sweat on the Demonlist, Bloodlust once held the title of the hardest epic-rated level, solidifying its place in gaming history.
How to play
Thanks to iPhone_ATT_TWC115 from Scratch for this project!